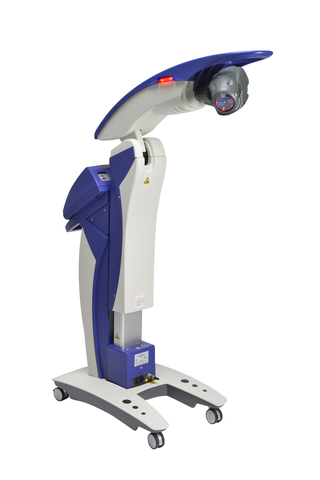 High Power Deep Tissue Laser Therapy
MLS Laser Therapy is a safe and effective method of treating conditions of pain, inflammation and promote wound healing of hard and soft tissues with the help of laser therapy. An FDA approved, class four technology combines the goodness of dual wavelengths with pulsed emissions to give patients an advanced laser therapy. 
What's unique about MLS Laser Therapy?
MLS Laser Therapy offers more in-depth repair of painful or inflamed tissues. The Multi-wave Locked System (MLS) Therapy Laser was developed to treat pain, inflammation, and edema, effectively. It gives better results than the conventional low power and high power lasers whose radiation levels were known to be harmful.
Offering therapeutic wavelengths, it combines anti-endemic, anti-inflammatory, and analgesic properties. This contributes to its more in-depth tissue repair that reaches to about 3-4 centimeters beneath the skin level.
How does MLS Laser Therapy work?
With great application and treatment outcomes, MLS Laser Therapy is a therapeutic device that converts light into biochemical energy which resumes normal cell function. Most tissue damage is due to the dysfunction of cellular transportation. Laser therapy gives therapeutic relief in the following way:
Releases vasodilating chemicals
Stimulates RNA and DNA synthesis (building blocks)
Increases enzyme production
Normalizes tissue pH levels
Increases production of ATP cells (internal cell-healers)
Working of MLS Laser Therapy
Tissue repair is performed by placing the laser about 8 inches above the skin level and emitting healing energy through it. The laser light interacts with several intracellular bio-molecules resulting in the restoration of normal cellular activities. The production of biochemical energy contributes to the body's natural healing process.
Benefits of MLS Laser Therapy
MLS Laser Therapy offers all gain and no pain with excellent clinical benefits. It has become the standard of care in alleviating both acute and chronic pain. The FDA-approved product has an 85%-90% efficacy rate in relieving patients from pain and inflammation, eliminates the need for surgery, prescription painkillers, is side-effect free, and restores health.
Benefits of MLS Laser therapy include:
Reduces swelling caused by bruising or inflammation
Treatment proves useful and effective on nerve cells increase the production of painkilling chemicals such as endorphins and enkephalin
Accelerates tissue repair and cell growth
Increases vascular activity (formation of new capillaries in damaged tissues)
Increases metabolic activity
Reduces fibrous tissue formation- 
Increases wound healing


To schedule an appointment with Nor Cal Airway, please contact us at 408-247-9291 or enter your appointment request here.